CAST
About the first High Strung movie Cast
---
---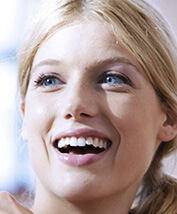 Keenan Kampa
Ruby
Becoming the first American to land a contract with Russia's Mariinsky Theatre (formerly the Kirov Ballet) was quite a career leap for Keenan Kampa. A native of the Washington, D.C., area, Kampa began her early dance training at the Reston Conservatory Ballet. At age 14, she was offered full-time study at American Ballet Theatre's Jacqueline Kennedy Onassis School and Boston Ballet.
In 2006, Kampa was awarded a gold medal in the USA National Youth Ballet competition, won the Russian Pointe Model Search award, and was a semi-finalist at the Prix de Lausanne International ballet competition in Switzerland. At 17, Kampa was invited to study at the world famous Vaganova Academy in St. Petersburg, Russia. Upon graduation, she received the unprecedented honor of a foreigner being awarded a full Russian Diploma. After fulfilling a contract with Boston Ballet, Keenan was asked to be the first American to join the Mariinsky Theatre, where she danced principal roles including Kitri in Don Quixote and Myrtha in Giselle, among others. Due to a hip injury, Kampa returned to the United States for surgery. It was during her recovery that she was offered the lead role of Ruby in HIGH STRUNG, marking her acting debut.
Modeling work for Kampa has included the face of the 2013 International Campaign for G Star Raw, AG Jeans, The Ballerina Project, Ballet Zaida. She has been on multiple covers of Dance Spirit and has been featured in Hunger, Nylon, Pointe, Teen Vogue, Glamour, Glamour Spain, Seventeen, NBC Sochi-Winter Olympics, Russia Today, New York Times, Boston Globe, The Washington Post, San Francisco Chronicle, and more.
Kampa also serves as a spokesperson and ambassador for children with special needs through the Lejeune Foundation in Paris. Always creative and artistic, Kampa has recently begun collaboration with an art collective.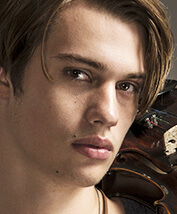 Nicholas Galitzine
Ruby
At the age of 18, Nicholas Galitzine's career received a jump-start when his first film audition landed him the lead role in the feature film, The Beat Beneath My Feet (directed by John Williams). The film was nominated in the Raindance category at the 2014 British Independent Film Awards and played in competition at the International Berlin Film Festival 2015.
Galiztine was then cast in the lead role of the rebellious, hip-hop violinist Johnny Blackwell in High Strung. Subsequently, he was cast as one of the lead roles in John Butler's new feature, Handsome Devil with Andrew Scott. Most recently, Galitzine was announced as one of Screen International's "Stars of Tomorrow" for 2015.
Galitzine is also an accomplished singer and musician and writes and performs his own music.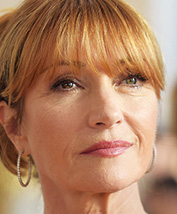 Jane Seymour
Oksana
A multiple Emmy® and Golden Globe® winner, recipient of the Officer of the British Empire (OBE) in the year 2000, which was bestowed upon her by Queen Elizabeth II at Buckingham Palace, Jane Seymour has proven her talents on the Broadway stage, in motion pictures, and in television. Her love of art and color has led to her great success as a painter in watercolors and oils, as well as in her work as a jewelry designer.
Seymour's past films include the James Bond movie, Live and Let Die, the cult classic Somewhere in Time, and the comedy smash Wedding Crashers. Her television credits include an Emmy award-winning performance in Onassis: The Richest Man in the World as Maria Callas, East of Eden (for which she was awarded a Golden Globe), the mini-series War and Remembrance and her Golden Globe-winning role in the title role of the long-running television series, Dr. Quinn Medicine Woman. Additionally, Seymour appeared on the Emmy-nominated show, Dancing With The Stars. Her recent projects include the Sony Classics' Austenland, the romantic comedy Love By Design, the dance film High Strung and Marlon Wayan's 2016 comedy, Fifty Shades of Black.
Born in Hillingdon, England, and raised in Wimbledon, Seymour began dance training an early age and was just 13 years of age when she made her professional debut with the London Festival Ballet. That same year, she entered the Arts Educational Trust for dance, music and theatre training and danced with the visiting Kirov Ballet at Covent Garden.
Seymour is involved in many philanthropic causes including Childhelp, American Red Cross, City Hearts and Camp Soaring Eagle. In addition to the charitable work that she does with these notable organizations, in 2010 the performer launched the Open Hearts Foundation.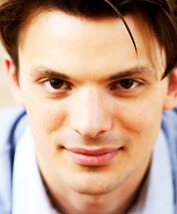 Richard Southgate
Kyle
British actor of stage and screen, Richard is best known for his appearances as a series regular "Malik" in television programme Young Dracula (CBBC), he appeared in Borgia as "Marcoantonio Colonna" (Showtime), Staneley Park, (BBC) and Skins (E4).
He appeared in the stage musical Spring Awakening (Novello Theatre, London). Richard just wrapped the feature film The Man with Four Legs. Adding to his list of talents, Richard is also a skilled violinist.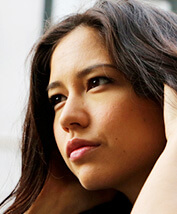 Sonoya Mizuno
Jazzy
Sonoya Mizuno made her big-screen debut playing Kyoko, a beautiful robot in Alex Garland's, Ex Machina (released 2014; directed by Alex Garland starring Alicia Vikander). The impromptu disco routine that she performs with Oscar Isaacs in the film has been critically acclaimed as "one of the greatest scenes of the year."
After wrapping her turn in High Strung as Jazzy, a rebellious student too talented for her own good, Mizuno went on to land a co-starring role in Damien Chazzele's highly anticipated musical, LaLa Land, with Emma Stone and Ryan Gosling. Mizuno is also featured in the lead role of the upcoming drama, Alleycats.
A few years back, Mizuno could be seen dancing with Scotland's national ballet company, Scottish Ballet, modeling in the pages of i-D and Dazed & Confused and wearing Chanel, Alexander McQueen and Saint Laurent in photographer Can Evgin's fashion short for Louis Vuitton-backed culture video channel "Nowness" (in which she was seen in a duet with an albino python).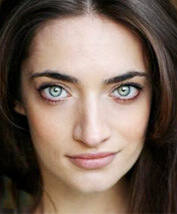 Anabel Kutay
April
As a member of Matthew Bourne's New Adventures Dance Company having performed in his world famous version of Swan Lake. She has also performed in Dorian Gray and played the principle role of Sheila in Play Without Words.
Anabel is also a founding member of The McOnie Company – a brilliant new Dance Theatre company. She recently performed in a critically acclaimed new piece called Drunk in which she played the role of Absinthe.
Other Theatre credits: Phantom of the Opera (West End) Flashdance (original cast), Chess (The Royal Albert Hall), Pippin (The Menier Chocolate Factory) , Dirty Dancing (West End), Chicago (Curve), Macbeth (Bridgehouse Theatre) and Guys and Dolls (Chichester Festival Theatre).
Anabel has danced for Madonna, Seal, Jessie J, Florence and the machine and Beyonce. She was also a top 14 finalist of the UK version of SO YOU THINK YOU CAN DANCE.
In 2016 Anabel made a transition into television and film acting, appearing in several short films. Her film The Company was shortlisted in the BFI sci-fi film festival. She has recently wrapped on a feature film named La Giovinezza directed by Paolo Sorrentino.
Anabel describes her role as April in High Strung as "The most beautiful gift of a role" and thanks the wonderful Michael and Janeen Damian for blessing her with this opportunity.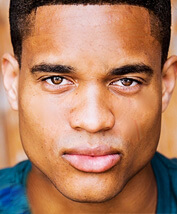 Marcus E. Mitchell
Hayward
Marcus was born in Houston and actually started out as a Division 1 basketball player and then switched majors in college to parlay his athleticism into a dancing career. He soon headed to LA where he has become one of Los Angeles' hottest working dancers.
Since arriving in LA , he has landed roles on numerous award shows, music videos, television shows, and movies. He is Taylor Swift's featured dancer and has worked with an impressive list of stars such as Beyonce, Rihanna, Katy Perry, Pharrell, Ciara, Gwen Stefani, Fergie and Will.I.Am, just to name a few.
Marcus' film credits include Stomp the Yard 2 and Step Up 3D. He can also be seen on Glee, Drop Dead Diva, Fresh Beat Band, Victorious and Zeke and Luther.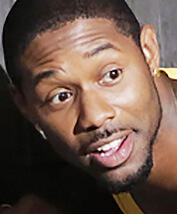 John Silver
Krispy
Los Angeles based choreographer John Silver has come a long way from his St. Louis, Missouri roots, sharing the stage with some of the music industry's biggest names.
A naturally gifted dancer, John has worked as a featured dancer with Nicki Menage, Chris Brown, Jennifer Lopez and Ne-Yo, just to name a few. On the big screen he can be seen in Dreamgirls and Danceflick as well as Chris Brown: Live from Sommet Center.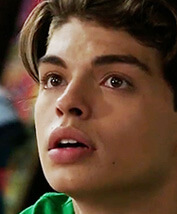 Ian Eastwood
Rik
At just 21 years old, Ian Eastwood is one of the new school of young dancer/choreographers whose career was launched by self-produced and directed videos appearing on his YouTube channel, which have garnered a following of more than 700,000 subscribers and 40 million views. Eastwood has also taught International Workshops in 27 countries and was awarded the title of "World Of Dance Entertainer of the Year."
Recently, Eastwood choreographed the highly acclaimed "Sober" Music Video for Childish Gambino, was supervising choreographer on the feature-length movie, Breaking Through (written and directed by John Swetnam and produced by John Legend). He played a featured character in the High Strung and choreographed and performed in the first-ever all-dance act at the Bonnaroo Music Festival, which was attended by more than 95,000 people.
Eastwood also choreographed the music video for Zendaya's video "Replay," which was featured heavily on The Disney Channel and had a featured solo spot on Dancing With The Stars, was a celebrity choreographer on DanceOn's Dance Showdown, enjoyed eight weeks as lead dancer/choreographer on Mtv's ABDC7 Return Of The Superstars, appeared as a principal dancer in the video for Justin Bieber's "Beauty and a Beat", was in the Ubisoft/Black-Eyed Peas Experience television advertisement, won World of Dance Entertainer of The Year, and choreographed music videos for K-Pop star Taemin, Shannon, Trevor Jackson, Vic Mensa, Tori Kelly, Blake McGrath, 5LPs, Elijah Blake w/Common, He Met Her and Marques Houston.
Currently on faculty for Pulse On Tour, VIP Dance Events, and Young Lions since the age of 15, Eastwood has also traveled to 27 countries teaching classes, workshops, camps and dance intensives as well as regular events and workshops with Millennium Dance Center, Coastal Dance Rage, and Movement Lifestyle.
Eastwood also represents his own clothing line through Young Lions and was the exclusive Designer of the KUBSKOUTZ logo with worldwide brand recognition.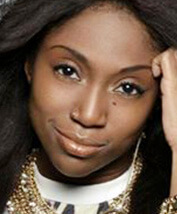 Comfort Fedoke
Poptart
Born in Texas but raised in Lagos, Nigeria, Comfort returned to the U.S. at age 8. A former track and field athlete, she began dancing after an injury forced her out of the competitive sports scene. She exploded on the dance scene when she was chosen as a finalist on Season 4 of Fox's popular TV show So You Think You Can Dance.
Active, in both the street world and the dance industry, Comfort has participated and won prestigious battles, like Juste Deboute in France and KOD in China to name of few. She has been choreographing and dancing alongside some of the top artists such as Hip Hop legend Missy Elliott at the Super Bowl 49 Half Time Show and in her newest music video "WTF" Where They From, with LLCool J at The Guys Choice Awards and Rihanna at the iHeart Radio Music Awards, as well as choreographing the Didn't Know You video by Indie artist, Karmin. Comfort also continues to dance and choreograph as an "All Star" on SYTYCD.
Her work doesn't end on the dance floor. She has acted in a number of films and TV shows over the past five years such as Step Up 5 All In, The Mindy Project. She is also featured in the role of "PopTart" in the upcoming feature film, High Strung, directed by Michael Damian.
In the midst of her dance career, her new role as a choreographer and her acting Comfort has found the time to reconnect with her familial roots in Nigeria. She is now a judge on a famous family show in Lagos, Nigeria Maltina Dance All.
And last, but certainly not least, Comfort has been actively pursuing her music career and has her song "Lose Your Mind" out on iTunes now. She is in the process of working on her EP.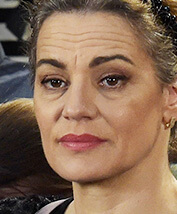 Maia Morgenstern
Markova
Maia Morgenstern is a Romanian film and stage actress who is described by Florin Mitu of AMOS News as "A symbol of Romanian theater and film." In the English-speaking world, she is best known for the role of Mary, the mother of Jesus, in Mel Gibson's The Passion of the Christ. In Romania, Morgenstern has been nationally known since her 1992 role as Nela in Balanta, a film known in the United States as The Oak and which was set during the waning days of Communist Romania.
Born in Bucharest to a Jewish family, Morenstern graduated from the Film and Theatre Academy of Bucharest. She then played at Teatrul Tineretului (youth theatre) in Piatra Neamt and at the Teatrul Evreiesc de Stat (State Jewish Theater) in Bucharest. From 1990 to 1998, she was a member of the company of the National Theatre in Bucharest, and since 1998 of Teatrul Bulandra. Additionally, she continues to act at the State Jewish Theatre and elsewhere in Romania.
Among her notable stage roles in recent years, Morgenstern was featured in a Romanian-language production of The Blue Angel (Ingerul Albastru in Romanian) at Bucharest's Odeon Theater, in 2001-2002 she played (to great critical acclaim) Lola Lola, the character made famous by Marlene Dietrich. At the same time, she was also playing the role of Kathleen Hogan in a Romanian-language production of Israel Horovitz's Park Your Car in Harvard Yard at the State Jewish Theater.
Morgenstern has appeared in numerous films, primarily in Hungarian and Romanian-language roles. In The Passion of the Christ, she performs a role in Aramaic, but like the other actors in the cast of that film, she memorized her lines phonetically.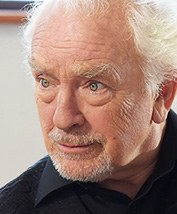 Paul Freeman
Kramrovsky
As one of Great Britain's most versatile character actors, Paul Freeman's dark, hypnotic good looks and talent for accents have often led him to be cast as villains. His work at the National Theatre was noticed by American director Steven Spielberg, who cast the actor as French archaeologist Rene Belloq, Harrison Ford's charismatic but utterly selfish rival, in the blockbuster, Raiders Of The Lost Ark.
Other films include The Long Good Friday (starring Bob Hoskins) and The Dogs of War (starring Christopher Walken) and the dance film High Strung.
Most recently, he has been shooting Netflix's upcoming Untitled WWII series and enjoyed a starring role in Starz's Da Vinci's Demons. Other notable television appearances include The Bible, The Walking Dead, Life Of Shakespeare, Secrets And Lies and Winston Churchill: The Wilderness Years. He has also continued to work as a stage actor. He has extensive experience performing in repertory in England and Scotland and the Royal Court Theatre. He is also a founding member of the Joint Stock Theatre Company.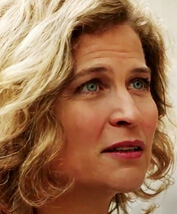 Miranda Wilson
Mary
Miranda Wilson was born in Omaha, Nebraska, USA. Her given name was Cheryl Ann, which she changed to Miranda, in her mid twenties. After moving around a great deal in her childhood, her family settled in the San Francisco Bay Area when she was 10. Growing up in California was ideal. There was the easy access to the natural world, which she loves, and the excellent public schools, which were extremely well resourced.
During her four years in high school, Miranda had the opportunity to perform in 9 stage productions in a beautiful 500 seat proscenium arch theatre with a full orchestra pit, fly loft and trap room. Musicals, comedies and dramas. A perfect training ground for a life in the acting arts. After high school, Miranda did a four year Fine Arts degree at University of California, Santa Barbara, majoring in Theatre Arts with an Acting emphasis.
After graduating from UCSB, Miranda headed to LA where she worked two different jobs as a waitress, for two months, saving enough to drop the night job and audition for a play. It was this performance, as Lady Kathleen Kennett Scott in 'Terra Nova' by Ted Tally, at The Morgan Wixson Theatre in Santa Monica, that secured her the audition for Days Of Our Lives. And that was the start of her professional career.
---
About High Strung Free Dance
---
About The First High Strung Movie
---
SUBSCRIBE
Sign up to receive news and updates.
---